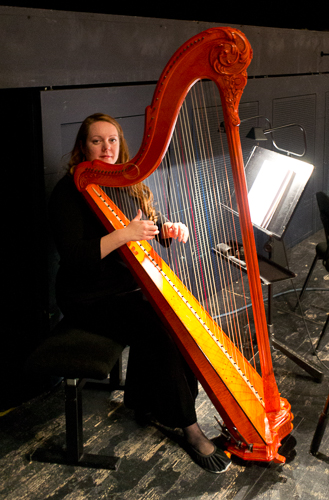 "I only want to know every limit, all the resources of the harp. This instrument has it's faults, but it is not inferior to any other, when it is well understood."
Jean-Baptiste Krumpholtz, an avant-gardist from the 1780's
Essi Iso-Oja (Ellonen) holds a Master's degree in the harp performance from Sibelius Academy and specialized studies in the continuo playing from Metropolia Early Music department. She has over twenty-years of experience as an orchestral and a chamber music harpist with the major Finnish orchestras and with the various ensembles ranging from Early Music to the Contemporary field. She has also given lectures about the harp music in Finland as well as composed, arranged and edited music mainly for her instrument.
Essi is one of the rare players of the historical pedal harp (the single action harp Louis XVI by Beat Wolf). She performs regularly as a soloist, a chamber musician and a continuo player with the early music ensembles like Elysion and Helsinki Baroque Orchestra.
As an artistic director she has created various programs for the rarely heard repertoire for the 18th century harp like The Radiant Nymph (a duo concert with a traverso flute), Salon de Catherine (a recital for solo harp), Les Liaisons dangereuses (Music from the French Revolution, an ensemble production)
You can hear Essi's harps also in the numerous film soundtracks, like the awarded documents Mechanical Love (dir. Phie Ambo) and Flying: Confessions of a Free Woman (dir. Jennifer Fox).
Essi Iso-Oja is a member of the Single Action Harp Associaton, the Historical Harp Society, the Finnish Society for Eighteenth-Century Studies and a founding member of the Finnish Harp Society.